In his spare time Hawah enjoys: finding new foods to mix with chocolate, climbing trees and buildings, doing handstands on furniture, hiking through mountains with flip flops, body surfing ocean waves, making animal sounds and bird calls, enjoying a glass of wine at high altitude, lighting candles in dark rooms and traveling. Beware, his optimism, energy for life, and laughter are contagious…
↓ more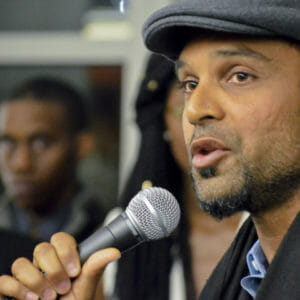 HawaH is an artist, author, educator, yoga instructor, community organizer, and non-profit leader. He has dedicated his life to teaching about solutions to violence and ways to peace, and has traveled to over 42 countries to facilitate interactive workshops, host dialogues, perform poetry, teach yoga, and speak with those interested in creating a caring, sustainable, and equitable world. 
In his early years, Hawah worked as an Americorps community organizer and mentor in Washington, DC's most under-resourced neighborhood, encouraging youth to explore the roots of oppression. After graduating from American University with a degree in Peace and Educational Philosophy, he was awarded a fellowship with the Robert F. Kennedy Memorial Foundation to work as a special representative to the United Nations and the World Conference Against Racism. For four years, he directed the Peaceable Schools Program in DC's largest public high school—and today still leads trainings for teachers and students in conflict resolution, non-violent communication, positive youth development, emotional literacy, social justice, and arts empowerment. 
In 2000, Hawah co-founded One Common Unity, a non-profit that supports a movement for peace education and the building of a non-violent culture through music and art. Over the past 18 years, OCU has worked with over 25,500 youth and families from around the nation.
In 2006, Hawah helped to direct an arts-based, interfaith peace and conflict resolution project to India-Kashmir-Pakistan. Known as ShantiSalaam, the 8-week tour was a huge success, engaging young people in dialogue about how to transform hostility between Muslims and Hindus living in the neighboring nations into peaceful relations. 
Hawah, is a certified Yoga Instructor, who was trained and certified in Sivananda Yoga at the Yoga Vidya Gurukul, a world-renowned teacher training college in India. He holds a second certification in the Jivamukti Yoga School and also holds a certificate from The Center for Mind Body Medicine in trauma relief and healing. He spent years also learning from other yoga traditions including studying Ashtanga Yoga with Sri. K. Pattabhi Jois in Mysore, Vinyasa Flow, Kundalini and Iyengar Yoga Styles. He maintains a Vipassana Meditation practice and practices Kung Fu (specifically training in Shaolin, Baguazhang and Tai-chi styles). His yoga classes are dynamic; a journey integrating his knowledge of ancient yoga forms with parallel modalities found in other cultures & traditions. Through his playful nature and compassionate heart, he encourages students to explore the mind-body connection. He has worked with all types of students from diverse demographics, teaching yoga at the Washington Post, law firms, award-winning yoga studios, and youth recreation centers and prisons. 
Hawah has been regularly featured as a speaker, performer and workshop presenter for People to People International, the Congressional Youth Leadership Council and the Children's Defense Fund's Freedom Schools. He has made appearances on XM National Satellite Radio, BBC, Fox News, CNN, Al Jazerra, and the Pacifica Radio Network. He has also been a guest speaker at Yale University, George Washington University, U.C.L.A., University of Colorado, Rollins College, University of Maryland, Georgetown University, and Brown University. 
An artist and spoken word poet known as Everlutionary, Hawah has authored four books: Trails: Trust Before Suspicion (2001), Escape Extinction (2003), zerONEss (2006), and The Poetry of Yoga (2012).  He has also released two musical CD's: Survival for All of Us (2005) and CALL (2010) and produced three documentary films: A Weigh with Words (2008), MLK Streets Project (2011), and the award winning Fly By Light (2015).
 His work continues to be published and featured extensively, including in: Origin, Mantra, Adbusters, Natural Awakenings, Yoga Journal, Yoga International, Elephant Journal, Mind Body Green, The Liberator, Left Turn, Rastafari Today, Fellowship, and Pathway Magazines.